Park Homes Holiday Abroad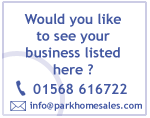 Portugal, Spain, France - some of our favourite holiday destinations, and increasingly popular as countries to retire to or for buying a holiday home.
The park home sector has not stood still - with park home developments springing up in some wonderful locations and proving a big draw as a place to buy and retire.
Search some of the hottest locations from the listings below.